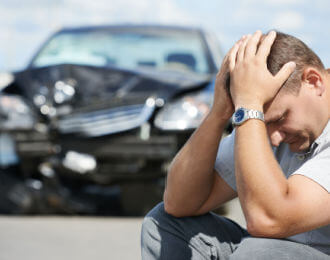 In Colorado, a driver who is found to be at fault for causing a car accident is typically liable for compensating anyone who suffered injuries or other losses as a result. But what if the at-fault driver doesn't have car insurance, or their insurance limits aren't enough to cover the full extent of the damage they caused? If you've recently been injured, how can you get the compensation you deserve? That is a question too many across the state have faced, as about one in six Colorado drivers is believed to be uninsured.
Provided you carry it, uninsured/underinsured motorist (UM/UIM) coverage can step in to act in place of an at-fault motorist's missing insurance, making up the difference between whatever their insurance covers and the actual cost of your injuries and losses, up to the limits of your policy. However, getting your insurance provider to pay out the full amount you're owed can be difficult without the help of an experienced attorney.
At Lee, Myers, and O'Connell, LLP, we are ready to help you file a UM/UIM claim and pursue the full and fair compensation you deserve. You should not be left to pay for someone else's mistakes, especially when you have taken steps to protect yourself. Contact us today to find out how an Aurora uninsured and underinsured motorist accident lawyer can help you during this difficult time.
What Is Uninsured Motorist Coverage?
Like other states, Colorado requires drivers to carry liability insurance, which covers medical bills and property damages for anyone else involved in an accident caused by the policyholder. The state also establishes the following minimum coverage mandates:
$25,000 for bodily injury or death to any one person involved in any one accident
$50,000 for bodily injury or death to all people involved in any one accident
$15,000 for property damage in any one accident
Colorado law requires insurers to provide uninsured motorist (UM) coverage equal to their policyholder's liability limits unless the policyholder specifically waives that coverage. In other words, drivers can choose to opt out of UM coverage but they can't be forced to proactively opt into this coverage. UM coverage is meant to protect you if you are injured in a collision with an at-fault driver who lacks basic liability insurance. It is important to note, however, that it does not cover vehicle damage.
Consider this: if you were involved in a crash with a negligent driver, you would file a claim with that person's insurance company. But if they have no insurance, who would you turn to for compensation? If you have uninsured motorist coverage on your policy, you would be able to file a claim with your own provider seeking compensation for your losses. This coverage serves as an extra level of protection meant to safeguard you if an uninsured motorist injures you or your family.
What Is Underinsured Motorist Coverage?
Underinsured (UIM) motorist coverage works in much the same way that UM coverage does. If a negligent driver causes an accident but does not carry enough coverage to compensate you for the losses they have caused you, your UIM coverage kicks in to fill in the gaps. Again, this coverage is not mandatory in Colorado, but it is provided by default. Drivers must specifically opt out of it, if they so choose.
Why You Need UM/UIM Coverage
Why do you need additional UM/UIM coverage if it is not mandatory? This type of coverage could help save you from financial calamity. The Insurance Research Council estimates that 16.3 percent of all Colorado drivers are uninsured, well above the national average of 12.6 percent.
After an accident, medical bills can run into the tens or hundreds of thousands of dollars. Do you have enough in the bank to cover those expenses out of pocket? And what if you're forced to miss work and lose out on income while you recuperate?
UM and UIM coverage protects you from negligent drivers who do not have insurance or do not carry sufficient coverage. Yes, you may be able to file a personal injury lawsuit seeking damages following a car accident. However, if the at-fault driver does not have the assets or resources to carry adequate car insurance, they likely don't have enough money to compensate you for your medical bills, either.
Furthermore, UM/UIM insurance will also cover you if you are injured by a hit-and-run driver who cannot be found.
Is Underinsured or Uninsured Motorist Coverage Required in Aurora, Colorado?
No, uninsured and underinsured motorist coverage is not required in Aurora, Colorado. Both kinds of coverage are optional. However, state law requires that insurers provide UM/UIM coverage equal to their liability policy limits unless the policyholder waives that optional coverage in writing. Drivers who opt out of these policy options will not be compensated if they are involved in an accident caused by an uninsured or underinsured motorist or a driver who flees the scene. Without this additional coverage, you may be on the hook for the full extent of your losses in these situations.
What to Do If You've Been Hurt in an Accident by an Uninsured or Underinsured Driver
If you are injured in an accident with an uninsured or underinsured motorist, try to follow the same steps you would for any motor vehicle crash. Contact the authorities and seek medical attention for your injuries as soon as possible. You will also want to keep these tips in mind:
Exchange information with the other driver – Get the other driver's insurance information, if they have any, and their contact information, license plate number, and driver's license number.
Collect evidence – If you are able to, take photos and videos of the scene. Get pictures of the damage to your vehicle from multiple angles and take note of your surroundings. Be sure to collect the contact information of any witnesses on the scene.
Continue medical treatment – It is vital to seek medical treatment immediately after an accident, but it is also critical that you continue your medical care and keep all follow-up appointments. Failure to take this step could compromise the value of your case down the road.
Contact an experienced attorney – An Aurora car accident attorney can help you file a UM/UIM claim and handle all communication with your insurance provider, fighting to get you the full and fair compensation you deserve.
Get in touch with your insurer – You will need to report the accident to your insurance provider to discuss filing a claim under your UM/UIM policy. Your agent can give you more details about how to file a claim and what your specific policy may cover. Having an attorney on your side can make this process simpler and far more effective.
Keep all documents related to the accident – You should keep a separate folder or notebook with all medical bills and out-of-pocket expenses related to the accident. These documents can establish your losses and help an attorney estimate the fair value of your claim.
Maximizing Compensation for a UM/UIM Claim
Insurance claims can be tricky, especially ones involving underinsured motorists. You may not realize that a driver doesn't have adequate coverage until it is too late. You may also feel pressured into settling with the other driver's insurer after an accident, which can jeopardize your chances of recovering money from your UIM policy.
To maximize your compensation from a UM or UIM claim, get in touch with a skilled Aurora UM/UIM car accident attorney. Insurers are not out to protect your rights. They are out to make money. An insurer is looking to settle an accident claim as quickly and as cheaply as possible. Maximizing your compensation is about understanding your rights, being patient, and building a strong UM/UIM claim. An attorney can help you on all fronts.
How an Aurora Car Accident Lawyer Can Help with Your UM/UIM Claim
Filing a UM/UIM claim with your insurance provider can be confusing and time-consuming, especially if you are struggling with significant injuries following a crash. While you might not have the time, energy, and experience to pursue a claim for full and fair compensation, a skilled Aurora car accident attorney does.
At Lee, Myers, and O'Connell, LLP, we can work with you to maximize your UM/UIM compensation. Insurance providers are for-profit companies, which means the adjuster assigned to your case has been tasked with protecting their employer's bottom line. It can take a tenacious legal representative negotiating on your behalf to secure you the full and fair compensation you need for your injuries. Our attorneys are prepared to:
Investigate the accident
Review your policy for coverage details
Calculate the full extent of your covered losses
File an insurance claim on your behalf
Negotiate a fair settlement with your UM/UIM insurance provider
Take your case to court if necessary
Don't try to take on the insurance company by yourself. Let us do the heavy lifting while you take the time you need to recover.
Reach Out to Our Aurora UM/UIM Lawyers for Help Now
Have you been injured by a negligent driver without sufficient insurance coverage? A seasoned Aurora UM/UIM lawyer at Lee, Myers, and O'Connell, LLP can protect your rights and demand the compensation that you're entitled to. Contact us today for a free consultation and discuss your options with a compassionate personal injury attorney.