Aurora Slip and Fall Accident Attorney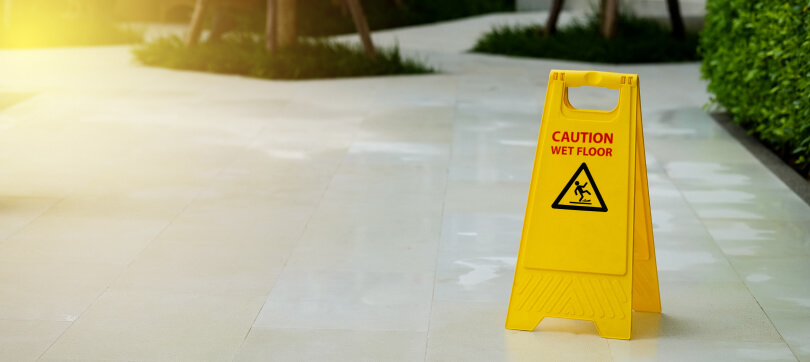 When you visit a place of business or someone's home, it is reasonable to expect that you will not be harmed during that outing. Yet, all too often, people experience serious slip-and-fall injuries on residential, commercial, and public property alike. If a property owner fails to provide safe conditions or does not address or warn about an unsafe condition or hazard, you may be able to pursue compensation from the property owner for any injuries you've recently sustained due to a slip-and-fall accident.
Slip-and-fall accidents can happen for a variety of reasons and may occur in a variety of settings. They can result in a range of injuries, from a minor sprain to a broken bone to a traumatic brain injury. Slip-and-fall accident victims can find themselves navigating significant financial, mental, and emotional burdens in the aftermath of an accident. It can be unquestionably stressful and frustrating to experience a serious injury because of someone else's negligence, recklessness, or intentionally harmful actions or inactions.
If you have recently been injured in a slip-and-fall accident in Aurora, contact the attorneys at Lee, Myers & O'Connell, LLP for a free consultation. Our slip-and-fall attorneys can review your case and advise you on your legal options. You may be eligible to make a claim against the property owner's insurance or pursue a premises liability lawsuit against them. Contact a slip-and-fall accident lawyer at Lee, Myers & O'Connell, LLP today to learn more. If you're entitled to compensation, we're ready to help you fight for it.
Common Causes of Slip-and-Fall Accidents
Common causes of slip-and-fall accidents in Aurora include:
Wet or slick surfaces due to spills, inclement weather, or unsecured materials
Obstacles or trip hazards, such as cords or wires
Broken or damaged surfaces
Damaged handrails
Poor lighting
Distraction
Improper footwear
Swift movements, as when someone is rushing or hurrying
Some causes of slip-and-fall accidents are entirely the property owner's responsibility, whereas other times, a visitor or guest to the property could bear some responsibility for the harm they've suffered.
Places Where Slip-and-Fall Accidents Often Occur in Aurora
Slip-and-fall accidents can happen anywhere. In our experience, Aurora slip-and-fall accidents often occur at:
Stores or shopping malls
Bars or restaurants
Public sidewalks
Theaters
Schools
Public or private swimming pools
Private homes
Apartment complexes
Parking lots or garages
Decks
Sports venues
Construction sites
Doctor's offices or hospitals
Hotels
Amusement parks
Types of Injuries Resulting from an Aurora Slip-and-Fall
Injuries sustained in a slip-and-fall accident can range from mild to severe, including:
Lacerations
Bruises
Torn muscles, ligaments, or tendons
Internal bleeding
Broken bones
Broken teeth
Facial injuries
Concussions
Whiplash
Spinal cord injuries
What to Do If You've Been Hurt in a Fall on Someone Else's Property
If you experienced an injury in a slip-and-fall accident at someone else's property, you should first seek medical attention as soon as possible. Even if your injury seems minor, some injuries may worsen with time or take several hours to become symptomatic. Whatever your situation, seeking medical treatment is important for your well-being and for the eventual outcome of your case. By seeing a medical professional, you create a record of your injuries and evidence of the slip-and-fall accident.
As soon as you can, you should also take photos of the location of the accident and the unsafe conditions that caused your injuries. If you delay in doing so, the property owner will have an opportunity to repair or cover up the conditions that led to your accident. If your injuries prevent you from taking the photos yourself, ask a friend or your lawyer to take them for you.
Report the accident in writing to the property owner, including details such as the date, location, and nature of the accident. Keep a copy for yourself. You may wish to hold off on writing this report until you've spoken with our legal team, as we can assist you with ensuring that this report is carefully worded and won't jeopardize the strength of any legal action you may choose to take.
If the property owner's insurance company contacts you, do not give them a statement. Insurance companies may try everything their employees can think of to avoid paying you the compensation you deserve. They may pressure you to take a low-ball settlement, or they may twist your words and place the blame on you for the accident.
Furthermore, do not post on social media about your accident. In fact, avoid social media altogether. That may be hard, especially if you are accustomed to sharing life's moments with your family and friend. This is not the time to announce to the world what you are doing or how you are feeling. Insurance companies or other attorneys could find your posts – even those that are seemingly harmless – and use them against you.
Who Can Be Held Responsible for a Slip-and-Fall Accident?
Property owners have a responsibility to maintain their premises and keep them reasonably safe for visitors, customers, or guests. If there is a hazard and the property owner is aware of it, they should either repair it or provide you with adequate warning so you can avoid injury. If they fail to do so and you get injured on their property because of their inaction, the property owner could be held legally responsible for your slip-and-fall accident. Similarly, if the property owner (reasonably) should have known about a hazard and failed to take steps to mitigate the risks, you may be able to hold them responsible for the harm.
The property owner could try to blame you for your injury. They could try to claim you were careless, purposefully got injured, or were under the influence of alcohol, drugs, or medications at the time of your fall. Alternatively, the property owner could try to label you a trespasser. Property owners do not owe the same duty of care to a trespasser that they do to a customer or invited guest under certain circumstances.
Even if you are partly responsible for your accident, in the state of Colorado, you can still recover compensation from the property owner, as long as you were not more than 50 percent at-fault for your harm. Your compensation would be reduced proportionally to your degree of fault. For example, if you are found to be 10 percent at fault for your slip-and-fall accident, and the property owner is 90 percent at-fault, your compensation award value would be reduced by 10 percent.
Compensation Available for a Slip-and-Fall Accident
A slip-and-fall accident victim may be able to recover compensation for the following:
Hospital bills
Rehabilitation expenses
Ongoing medical treatment for your injuries
Medical equipment or devices
Lost wages from time off work due to your injuries
Future reduced earning capacity because of your injuries
Pain and suffering
Mental anguish
Loss of quality of life
Depending on the nature and severity of your injuries, you could be eligible to recover the compensation you need to pay your bills and move on with your life. Calculating this compensation can be challenging, however. An experienced injury lawyer at our firm will be able to determine what is fair to demand, based on how your injuries have impacted your life now and how they might impact your future.
How Can an Aurora Slip-and-Fall Attorney Help?
If you were injured in a slip-and-fall accident on someone else's property, call one of the experienced Aurora slip-and-fall accident attorneys at Lee, Myers & O'Connell, LLP right away. Our slip-and-fall lawyers will act quickly to investigate your case and – whenever possible – collect the evidence necessary to prove the property owner's duty of care and their breach of that duty.
We may seek evidence such as:
Property surveillance footage (which must be preserved quickly, as property owners often delete this footage on a periodic basis)
Photos of the location of the accident and your injuries
Eyewitness accounts of the unsafe conditions or your accident
Medical records demonstrating the severity and timing of your injuries
Some of this evidence is only helpful if it is collected immediately after a fall. This is one of the reasons why working with a slip-and-fall accident lawyer can be so helpful. They can handle these critical components of your case while you focus on recovering and healing.
Time Limit to File a Slip-and-Fall Case in Colorado
According to Colorado's statute of limitations, you have two years from the date of a slip-and-fall accident to file a lawsuit against a property owner. Furthermore, some evidence is only recoverable immediately after an accident. For example, photos of the conditions of the premises at the time of the accident, or as close to it as possible, are critical. Surveillance video may be deleted or recorded over if it is not retrieved shortly after the accident. Eyewitnesses may begin to forget what happened, or they could move away and be hard to track down.
These are just two of the reasons why it is important to act quickly and connect with a skilled slip-and-fall attorney as soon as possible after your accident. Your attorney will need time to prepare your case and file the necessary paperwork with the appropriate court.
Contact Our Aurora Slip-and-Fall Attorney for a Free Consultation
If you have been injured in a slip-and-fall accident in Aurora, do not delay in getting the legal help you need and deserve. Contact the lawyers at Lee, Myers & O'Connell, LLP today for a free consultation concerning your situation. Our experienced slip-and-fall accident attorneys can help you pursue compensation from any and all responsible parties so that you can focus on recovering from your injuries.