Pedestrian Accident Attorney in Aurora, CO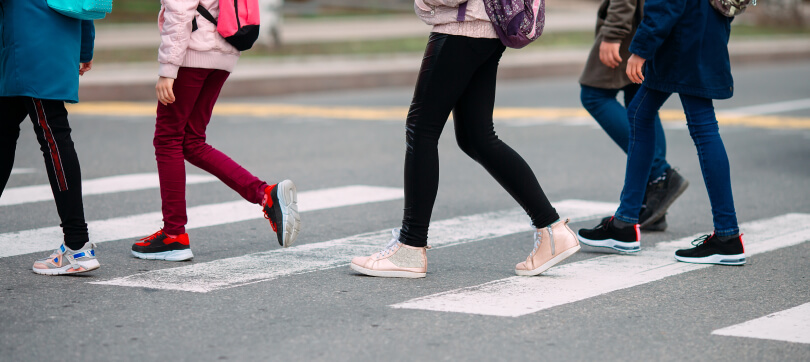 The effects of a pedestrian accident can be serious, potentially forcing victims to grapple with extensive medical bills, lost income and earning capacity, physical pain, and diminished quality of life. Thankfully, if a motorist or another party is at fault for a pedestrian accident, a victim could be entitled to compensation for all of these losses and more.
If you have recently been injured as a result of a pedestrian accident, an experienced personal injury attorney from our firm can help you demand any and all compensation to which you are rightfully entitled. Reach out to Lee, Myers & O'Connell, LLP for personalized, professional guidance and assistance. We offer free consultations, so there's no cost to discuss your case with an experienced Aurora pedestrian accident lawyer. Once you've been informed of your rights and options, we can assist you with pursuing legal action, should you choose to do so.
Common Causes and Types of Pedestrian Accidents
Most pedestrian accidents are caused by some form of negligence or recklessness. Examples of potentially actionable conduct include:
Speeding
Reckless driving, including tailgating, racing, or swerving through and around traffic
Distracted driving, especially texting and driving
Drowsy or fatigued driving
Driving under the influence of alcohol or drugs
Driver inexperience and unfamiliarity with the rules of the road
Failing to yield the right of way to pedestrians in crosswalks or intersections
Not signaling or checking mirrors before turning
Not checking mirrors or blind spots when backing up
Inadequate vehicle maintenance, including brakes and tires
Vehicle defects
Other potential factors that contribute to the cause(s) of pedestrian accidents include bad weather, poor road conditions, and unsafe road or intersection design that place pedestrians at risk of collisions.
At Lee, Myers & O'Connell, LLP, we represent clients who have been injured in all different kinds of pedestrian accidents, such as:
Backing up accidents
Left- or right-hand turn accidents
Crosswalk accidents on multi-lane roads
Bus-related accidents
"Trapped" pedestrian accidents, in which a pedestrian is still crossing an intersection or crosswalk when the signal changes
Injuries Frequently Suffered by Pedestrians in Crashes
Pedestrians are afforded no protection from injury in the event of an accident. As a result, crashes involving pedestrian vehicles can cause serious, even life-threatening injuries, such as:
Road rash, skin abrasions, or avulsions
Broken bones
Soft tissue injuries
Whiplash
Nerve damage
Herniated disc injuries
Spinal cord injuries and paralysis
Crush injuries
Internal injuries and bleeding
Facial injuries
Hearing or vision loss
Amputation
Who Can Be Held Liable for a Pedestrian Accident in Aurora?
While motorists are often held liable for pedestrian accidents, other parties might also be to blame. Depending on the circumstances of the accident, you may be able to hold any of the following parties liable for your injuries and losses:
A negligent driver
The driver's employer, if the accident occurred within the course and scope of the driver's job
The manufacturer of the driver's vehicle, or a third-party manufacturer of a part used on the vehicle, if a design or manufacturing defect led to the accident, such as a defect leading to brake failure
A state or local government may be liable when a pedestrian accident is caused by a defective or unsafe road or intersection design, such as mistimed traffic and pedestrian signals
Do I Have Grounds to File a Pedestrian Accident Lawsuit?
You might have grounds upon which to pursue legal action if you were hit by a motor vehicle driven by a negligent motorist – that is, a motorist who was not exercising proper care to avoid causing an accident. Motorists who behave recklessly or who intentionally endanger others may also be held accountable for injuries caused by their actions.
You might also have a claim if you were involved in a collision that was caused by some other party's negligence or fault, such as a government entity's failure to provide sufficient lighting or design a safe intersection. A successful pedestrian accident claim also requires you to show that you have sustained losses that you might be financially compensated for, like medical bills, lost wages, or physical pain and emotional suffering.
Colorado Pedestrian Laws
Under Colorado law, pedestrians are required to obey traffic laws as well as follow traffic control devices applicable to the pedestrian, such as walk/don't walk signals. However, when an intersection or marked crosswalk does not have traffic control signals or signals are not functioning, drivers are required to yield the right of way to a pedestrian crossing the intersection or crosswalk. Pedestrians are also prohibited from stepping off the curb or other safe area immediately in front of an approaching vehicle and creating a hazard for an approaching motorist. If a pedestrian crosses a street or road outside of an intersection or crosswalk, they must yield the right of way to all vehicles in the roadway.
Pedestrians walking along a road that does not have sidewalks must travel on the shoulder as far as possible from the edge of the roadway. If the road does not have a shoulder, pedestrians should walk along the left outside edge of the roadway facing oncoming traffic.
Can a Pedestrian Be Partially at Fault for a Pedestrian Accident?
Because Colorado requires pedestrians to follow traffic laws and other regulations applicable to them, a pedestrian can be considered partially at fault for an accident if they were breaking the law or otherwise behaving negligently or recklessly at the time of the crash. For example, a pedestrian who crosses against a "don't walk" sign or who steps off the curb in the middle of the street in front of an approaching vehicle may be found partially responsible for an accident.
A pedestrian is not necessarily barred from pursuing a claim for compensation simply because they were partially at fault for their accident. Under Colorado's comparative negligence law, an injured party can still pursue a claim for compensation after an accident they were partially at fault for, so long as they have a lesser share of fault than the combined share of fault of the party or parties they are seeking compensation from. Under these circumstances, the compensation that an injured pedestrian would otherwise be entitled to can be reduced in proportion to the pedestrian's share of fault. For example, if a pedestrian incurred $100,000 in losses from an accident for which they are found to have been 25 percent at fault, the pedestrian's financial recovery can be reduced by $25,000 to reflect their own liability for the accident.
Compensation You Could Recover for a Pedestrian Accident
You might be entitled to pursue compensation for the following losses stemming from a pedestrian accident:
Costs of medical treatment and rehabilitation of your injuries
Costs of long-term care for permanent disabilities that you may have suffered
Lost wage/income if you take time off work to recover from the accident
Loss of future earnings and job benefits if disabilities render you unable to return to employment
Pain and suffering
Physical disabilities and permanent scarring or disfigurement
Does My Auto Policy's UM/UIM Coverage Apply When I'm a Pedestrian?
If you were hit by a driver who didn't have liability insurance at the time of the accident or whose insurance coverage cannot fully compensate you for all your losses and expenses, you might be entitled to turn to your own auto insurance policy for compensation. You have the option of purchasing uninsured and underinsured motorist coverage when you take out an auto insurance policy.
The language of most policies states that you are entitled to coverage when you are involved in an accident with an "auto" or a "motor vehicle." Policies define what kinds of vehicles are considered an "auto" or "motor vehicle" that triggers coverage. If you were hit by a qualifying vehicle operated by an uninsured or underinsured driver, you might be entitled to file a UM/UIM claim with your insurer, even if you were not traveling in your insured vehicle at the time you sustained harm.
Statute of Limitations on Pedestrian Accidents in Aurora
Under Colorado's statute of limitations concerning pedestrian accidents, you typically have three years from the date of the accident to file a lawsuit against a responsible motorist. However, lawsuits filed against parties other than motorists, such as the manufacturer of a defective part used on the vehicle that hit you, must be filed within two years of the date of the crash. In addition, if you are filing a claim against a state or local government or agency, you must notify the relevant entity within 180 days of the accident.
Failing to timely file your claim or notice will likely result in your case being dismissed, which means you will lose the chance to pursue compensation through the courts. This makes it important to speak with an Aurora pedestrian accident lawyer as soon as possible after you have been hurt in a collision.
Benefits of Hiring Our Pedestrian Accident Lawyers
After a pedestrian accident, you should be focused on your health and your recovery, not on filling out paperwork and fighting with insurers. Let the pedestrian accident lawyers of Lee, Myers & O'Connell, LLP go to work on your behalf to recover the compensation you need by:
Collecting evidence from the accident to identify the party or parties who should be held liable for your injuries
Calculating your past, ongoing, and future expenses and losses
Filing insurance claims on your behalf, including pursuing UM/UIM claims with your insurer if applicable
Aggressively pursuing full financial recovery through a negotiated settlement
Taking your case to court and trial if doing so becomes necessary to demand maximum compensation
By retaining our firm for your pedestrian accident case, you can spend your time and energy on your physical and emotional recovery while we fight for your interests.
Contact Our Aurora Pedestrian Accident Lawyers for a Free Consultation Now
If you are in a pedestrian accident that was not your fault, Lee, Myers & O'Connell, LLP can help. Our experienced pedestrian accident attorneys are dedicated to helping accident victims get justice and compensation. Contact Lee, Myers & O'Connell, LLP today for a free, no-obligation case evaluation.