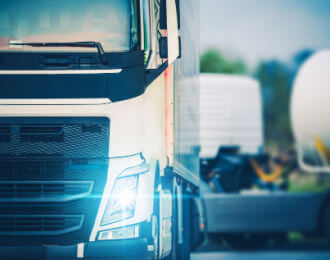 There is a reason the trucking industry is highly regulated. Commercial trucks are massive, heavy, and incredibly dangerous. When they cause accidents on American roadways, people tend to get hurt.
If you were injured in an accident involving a tractor-trailer in Colorado, you may be wondering what you can do to hold the at-fault party or parties accountable for your harm. The truck accident attorneys at Lee, Myers & O'Connell, LLP have helped many accident victims take on the trucking industry successfully. This is not an easy thing to do. Trucking companies have leagues of attorneys and powerful insurance companies working on their behalf.
If you need to take on the trucking industry to seek justice and compensation for an injurious accident, you need an aggressive and experienced advocate on your side. Contact Lee, Myers & O'Connell, LLP today for a free consultation to learn more about your rights, your options, and our approach to representation.
Why Trucking Regulations Could Be Critical in an Accident Case
The Federal Motor Carrier Safety Administration of the U.S. Department of Transportation (DOT) oversees the numerous regulations on the commercial trucking industry, including trucking companies, truck drivers, and truck manufacturers. There are also Colorado state laws regulating the trucking industry, which are overseen by the Colorado Department of Transportation.
All it takes is one component of the trucking industry failing to comply with state and federal regulations for accidents to happen. When accidents happen, they can cause catastrophic injuries and even death. The complex framework of federal and state regulations concerning the trucking industry are meant to keep you and your family safe on our roadways. When trucking companies or their drivers fail to follow the law, they may potentially be held accountable for any injuries resulting from this failure.
Proving negligence, recklessness, or intentional harm is key to pursuing compensation in an accident case. You must be able to prove that the other party violated their duty of care to mitigate safety risks. Proving causation and fault in a truck accident case is often difficult. However, when safety regulations are violated and someone gets injured because of that violation, causation and fault may potentially be strongly inferred.
Therefore, proving that a trucking company, their driver, or another element of the trucking industry violated a safety regulation could be critical in successfully pursuing an accident case. That is why it is important to work with a truck accident attorney who understands the ins and outs of federal and state trucking laws and regulations.
Federal Truck Driver Hours of Service Laws
Hours-of-service laws are some of many federal regulations that commercial truck drivers must follow. These include:
Maximum of 11 hours of driving after 10 consecutive hours off duty
Limit of 14 consecutive hours on duty after 10 consecutive hours off duty
10-hour off-duty period can be split up into separate portions, as long as one portion is at least 2 hours long and the other is at least 7 consecutive hours spent in the truck's sleeper berth, and the two portions of off-duty time add up to 10 hours
Must take a 30-minute non-driving break after a period of 8 consecutive hours of driving
Limit of 60 hours on-duty in 7 consecutive days or 70 hours on-duty in 8 consecutive days
After 7 or 8 consecutive days on-duty, driver must take at least 34 consecutive hours off duty
Drivers may extend the 11-hour driving limit and 14-hour on-duty limit by up to 2 hours when experiencing adverse driving conditions, such as bad weather or unexpected crash causing traffic
Unfortunately, truck drivers often exceed these limits under pressure from their employers, who are eager to meet deadlines and move hauls quickly. If a driver who works past their driving limits gets tired or distracted behind the wheel and causes an accident, the driver and/or their company could be held liable for injuries suffered in the accident.
Other Federal Truck Regulations
There are many other federal regulations that concern truck drivers and trucking companies. Regulations relevant to accident investigations include those that concern:
Inspections: Drivers are required to inspect at the end of each day's work their truck's equipment, including brakes, lights, tires, horn, windshield wipers, rear-view mirrors, and much more. If they find any problems, they must repair them before operating the truck. They must keep a written report on these inspections. Furthermore, trucking companies are required to inspect all of their trucks annually.
Inspector qualifications: Individuals performing annual inspections must meet certain criteria for knowledge, experience, and/or training, and the trucking companies must retain records of their inspectors' qualifications for as long as they are employed and for one year thereafter.
Reporting: Drivers' inspection reports must be retained for 3 months after the date of reporting.
Maintenance records: Truck companies must periodically inspect, repair, and maintain their trucks. Those records must be retained where the truck is housed for at least 1 year and for 6 months after the vehicle leaves the company's control.
Colorado State Trucking Regulations
Truck drivers and trucking companies must also follow Colorado state regulations, including licensing, size and weight limits, chain requirements, and mud flap requirements.
Colorado Commercial Driver's License (CDL): A CDL is required to operate any commercial motor vehicle with a gross vehicle weight rating of 26,001 pounds or more. To obtain a CDL in Colorado, you must have:

Valid driver's license
Current Department of Transportation medical card
Social Security number
Completed commercial driver skills test
Entry-Level Driver Training at an approved school

Size and Weight Limits for Commercial Trucks: Commercial trucks must comply with a combination of federal and state laws for size and weight limits, including:

Single vehicle maximum length of 45 feet
Semitrailer maximum length of 57.3 feet
Trailer maximum length of 28.5 feet
Maximum width of 8.5 feet
Maximum height of 13 feet on state highways and 14.5 feet on National Highway System highways
Maximum weight of 80,000 pounds

Colorado Chain Law for Commercial Trucks: From September 1 through May 31, commercial trucks traveling on a certain section of I-70 must carry chains to help them drive up steep climbs on Colorado highways. This law applies to any truck with a gross combination weight rating of 16,001 pounds or more. When the chain law goes into effect, truck drivers will be notified via roadway signs, radio channels, website notifications, text messages, emails, and/or other notification systems.
Colorado Mud Flap Law for Tractor-Trailers: Colorado law requires that commercial trucks have splash guards, also called "mud flaps," to minimize the spray from the truck's tires onto nearby vehicles. Splash guards must be installed and operational at all times. If a truck's splash guard gets torn or damaged, the driver must replace them at the "first reasonable and safe opportunity."
Requirements for Truck Owners and Fleet Managers
Beyond the truck driver's responsibilities, truck owners and managers of fleets of trucks also have regulatory requirements that they must comply with.
Electronic Logging Devices: According to federal law, commercial trucks must be equipped with electronic logging devices (ELDs). ELDs sync with the truck's engine to automatically record a number of data points, including the driver's hours-of-service. All drivers must use an ELD to document their compliance with the hours-of-service regulations. This information can be valuable evidence in a truck accident case.
Conducting Drug and Alcohol Testing: Truck companies are required to randomly test their drivers for alcohol or drug use and test them as soon as reasonably possible after an accident. If a truck driver is found to have worked while under the influence of drugs and alcohol, their employer could be held liable for that accident if they failed to comply with the federal law on drug and alcohol testing.
Background Checks: Drivers with CDLs are required to pass a DOT background check, which includes a search of 3 years of state driving records in each state that the driver has held a license, 3 years of employment records with any DOT-regulated employers, and 3 years of any required alcohol and drug testing. If a driver who causes an accident is found to have been improperly vetted for their job, their employer could be held liable for any injuries resulting from that accident.
How Our Colorado 18-Wheeler Accident Lawyers Can Help You
If you were injured in an accident with an 18-wheeler in Colorado, the truck accident lawyers at Lee, Myers & O'Connell, LLP can help you explore your legal options. We understand the destruction and devastation that tractor-trailers can cause in the lives of innocent accident victims who find themselves in the wrong place at the wrong time.
Lee, Myers & O'Connell, LLP will aggressively pursue accountability from the truck driver, the trucking company, and any other party that may be at fault for your accident. Contact Lee, Myers & O'Connell, LLP today for a free consultation concerning your rights, your options, and how we can help you recover compensation after a Colorado truck accident.